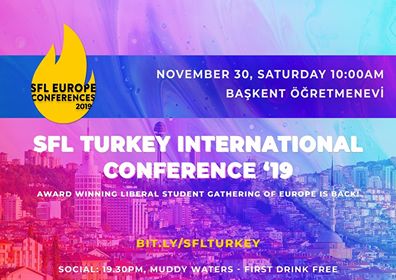 Students for Liberty is back with the third edition of its award-winning Turkey International Conference!
In this day-long event, we will discuss various topics such as international trade, free-market solutions to environmental issues and economic development without government intervention. Our insightful speaker line-up will argue that freedom is a solution to global challenges and an enabler of economic development. You will also have an opportunity to expand your personal network with classical liberal NGO's, publishers and our partner organizations.
Join us at this conference to understand the relationship between freedom and prosperity and the philosophical background of the ideas for a free society. You will meet with pro-liberty students from all around the world and learn about our activities in Europe. You may be one of the next generation of leaders that Students for Liberty is looking for!
Registration is free and it includes lectures, certificates of participation and access to social event in the evening. Your first drink at the social is on us! Open buffet lunch as well as coffee breaks during the day will be provided for free.
The Conference attracted more than 200 students from 32 different countries in Europe, Africa, the Middle East, and Asia last year. Register today and be a part of this exciting experience!
REGISTRATION: