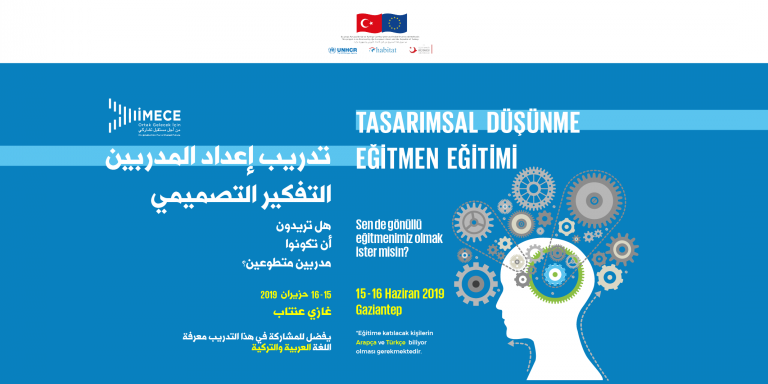 Sen de mülteci girişimcilerin kapasitelerinin geliştirilmesine katkı sağlamak için gönüllü eğitmen olmak istiyorsan hemen eğitmen eğitimine başvuru yap.
Habitat Derneği Mülteci Programı İmece Projesi kapsamında 15 – 16 Haziran tarihlerinde Tasarımsal Düşünme eğitmen eğitimi gerçekleştiriyoruz. Düzenlenecek eğitmen eğitimi kapsamında 20 kişilik kontenjan bulunmaktadır.
Eğitim Ankara, Adana, Gaziantep, Hatay, İzmir, Kahramanmaraş, Kayseri, Mersin, Şanlıurfa'dan başvurulara açıktır.
Değerlendirmelerde Habitat Derneği'nin daha önce düzenlediği etkinliklere katılım, cinsiyet dengesi, dil bilgisi düzeyi (Katılımcıların Arapça bilmesi gerekmektedir.) ve tasarımsal düşünme konularına ilgisi göz önünde bulundurulacaktır.
If you want to be a volunteer trainer to contribute to the capacity development of refugee entrepreneurs, just apply to the training of trainers.
Habitat Association Refugee Program's IMECE Project, we are conducting Design Thinking training of trainers on 15-16 June. Within the scope of the training, there is a 20-people quota.
The training will be available for the applicants from Ankara, Adana, Gaziantep, Hatay, İzmir, Kahramanmaraş, Kayseri, Mersin, Şanlı-urfa.
In the selection process of the applicants, participation to Habitat's previous trainings, gender balance, language competencies (the participants must speak Arabic) and interest in the design thinking will be distinctive.
تدريب إعداد المدربين المتطوعين في التفكير التصميمي لمشروع ايميجه
إذا كنت تريد أن تكون مدربًا متطوعًا للمساهمة في تنمية قدرات رواد الأعمال من اللاجئين ، فما عليك سوى التقدم بطلب للانضمام لتدريب إعداد المدربين.
مشروع ايميجه ضمن برنامج العمل مع اللاجئين في جمعية هابيتات ، نقوم بتدريب إعداد المدربين في التفكير التصميمي في الفترة  ما بين  15 إلى 16 حزيران. في نطاق التدريب ، هناك متسع لانضمام 20 شخصاً.
سيكون التدريب متاحًا للمتقدمين من أنقرة ، أضنة ، غازي عنتاب ، هاتاي ، إزمير ، كهرمان مرعش ، مرسين ، قيصري ، شانلي أورفا.
في عملية اختيار المتقدمين ، ستكون المشاركة في التدريبات السابقة لمنظمة هابيتات والأخذ بالاعتبار التوازن بين الجنسين والكفاءات اللغوية حيث (يجب على المشاركين التحدث باللغة العربية) والاهتمام بالتفكير في التصميم ستكون ميزة متقدمة لهم
Application procedure:
Liked it? Found what you were looking for? Please take a second to support Vacancies in Turkey (ViT) on PATREON, which provides free services for both job seekers and job providers.